Installing the BDSwiss MT5 on MAC
Platforma handlowa BDSwiss MT5 Forex i CFD jest wyposażona w szeroką gamę zaawansowanych funkcji, które wykraczają poza możliwości swojego poprzednika MT4. Posiada ponad 250 aktywów forex i CFD, w tym pary forex, metale, energie, kryptowaluty, indeksy i akcje; platforma BDSWiss MT5 jest dostępna dla wszystkich użytkowników systemu Mac OS, i można j ją pobrać bezpośrednio na komputer w zaledwie kilku prostych krokach.
Aby zainstalować platformę BDSwiss MT5 na komputerze Mac, wykonaj poniższe czynności:
1. Kliknij "Pobierz teraz" aby rozpocząć pobieranie.

Twók kapitał jest narażony na ryzyko. Obowiązują Zasady i Warunki.
Uwaga: rozmiar pliku instalacyjnego wynosi około 4,25 MB i pobieranie może potrwać kilka minut. Poczekaj na ukończenie pobierania.
2. Po zakończeniu pobierania okno instalacji powinno otworzyć się automatycznie. Jeśli tak się nie stanie, przejdź do folderu pobierania i wyodrębnij zawartość pliku zip, klikając na niego dwukrotnie.
3. Jeśli system operacyjny komputera Mac to OS X Mountain Lion lub OS X Lion, kliknij prawym przyciskiem myszy ikonę aplikacji, a następnie wybierz 'Otwórz' z menu kontekstowego. Nie klikaj dwukrotnie rozpakowanego pliku, ponieważ pojawi się "błąd", bo plik nie został pobrany z Mac App Store.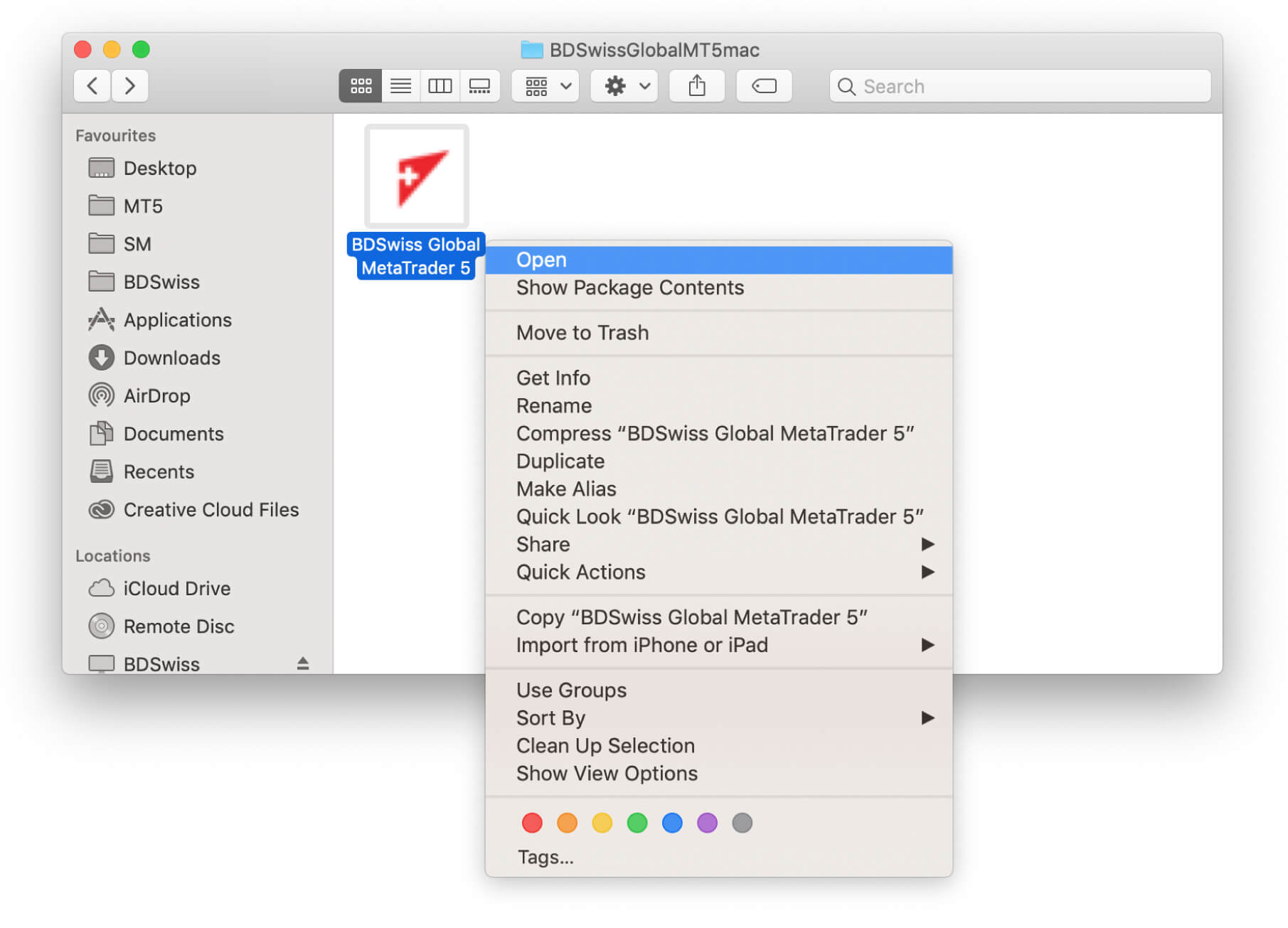 4. Kliknij "Otwórz"w nowym oknie dialogowym i poczekaj na otwarcie platformy BDSwiss MT5.
5. Odczekaj chwilę, aż platforma BDSwiss Forex MT5 zostanie uruchomiona i po jej otwarciu kliknij 'Anuluj' w oknie Wyszukiwarka serwerów pokazanym poniżej.
6. Zaloguj się na konto transakcyjne MT5, korzystając z kodu logowania znajdującego się na pulpicie konta BDSwiss i osobistego hasła.
* To oprogramowanie korzysta z Wine i WineBottler, które są bezpłatnym i otwartym oprogramowaniem udostępnionym na licencji LGPLv2.1 +.