Instalacja platformy transakcyjnej BDSwiss Forex MT4 na PC.
Platforma transakcyjna MetaTrader 4 BDSwiss Forex stanowi idealny wybór dla inwestorów, którzy chcą zawierać transakcje na rynkach finansowych (forex, akcje, towary i inne). Jest ona dostępna dla wszystkich użytkowników PC. Platforma jest gotowa do pobrania bezpośrednio na komputer, a na jej instalację składa się kilka prostych kroków.
Prosimy wykonać poniższe kroki, aby zainstalować platformę transakcyjną BDSwiss Forex MT4 na swoim komputerze:
1. Kliknij "POBIERZ TERAZ", aby rozpocząć pobieranie.


POBIERZ TERAZ
wój kapitał jest narażony na ryzyko
Uwaga: Plik instalacyjny ma 310 MB. Prosimy poczekać, aż pobieranie zostanie ukończone.
2. Po ukończeniu pobierania, okno instalatora powinno zostać automatycznie wyświetlone. Jeśli się to nie stanie, prosimy przejść do folderu pobierania i dwukrotnie kliknąć plik "BDSwiss Forex MT4".

3. W następnym kroku, prosimy zapoznać się z umową licencyjną i zaakceptować ją klikając na pole wyboru.

4. Kliknij "dalej" i poczekaj, aż proces instalacji zostanie zakończony.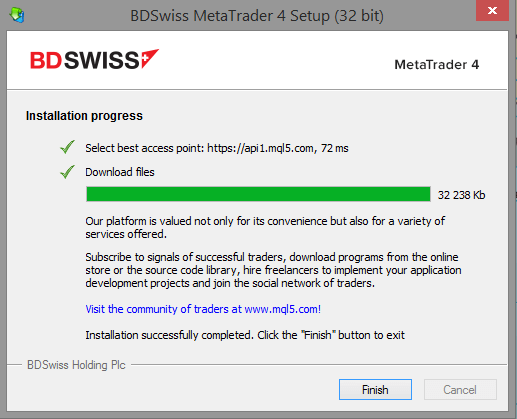 5. Teraz kliknij "zakończ" w oknie instalacji i zaczekaj, aż platforma transakcyjna BDSwiss Forex MT4 zostanie otwarta. Następnie, kliknij "anuluj" w oknie wyszukiwania serwera tak, jak jest to pokazane poniżej.

6. Gratulujemy, instalacja została zakończona. Teraz możesz po prostu zalogować się do konta transakcyjnego.