BDSwiss Clinches the 'Best IB/Affiliate Program Africa' Award at FAME Awards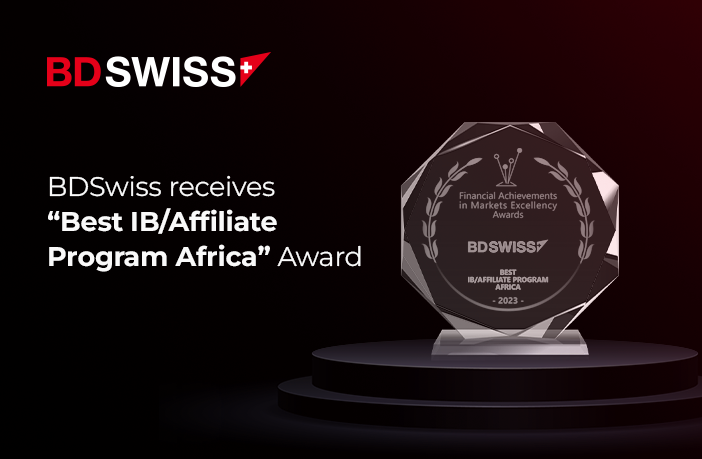 |
We are proud to announce that BDSwiss has been crowned with the prestigious 'Best IB/Affiliate Program Africa' award at the recent Financial Achievements in Markets Excellency (FAME) Awards. The award was handed over during a dazzling ceremony concluding the first day of the highly-anticipated Finance Magnates Africa Summit (FMAS:23).
Held in the heart of Africa's bustling financial hub, FMAS:23 gathered the continent's financial sector's movers and shakers. The event saw an exceptional gathering of local and international financial experts, institutions, and stakeholders, all coming together under one roof to discuss, debate, and shape the future of Africa's financial landscape.
Winning this prestigious award is a testament to the exceptional commitment of BDSwiss to deliver world-class affiliate programs that consistently exceed our partners' expectations. This award acknowledges our constant efforts towards providing high-level performance, innovation, and reliability that make our affiliate program stand out in Africa's competitive financial sector.
The 'Best IB/Affiliate Program Africa' award recognizes the broker with the most outstanding, reliable, and beneficial affiliate program in Africa. It's a mark of recognition for our advanced tools and features, dedicated partner support, competitive commission structures, and our continued commitment to ensuring the success of our affiliates.
At BDSwiss, we have always prided ourselves on our top-tier affiliate programs. Our commitment to our affiliates is unwavering – providing them with cutting-edge tools, real-time tracking, innovative products, and personalized support. We strive to offer a program that doesn't just help our partners grow their businesses, but also bolsters the financial sector across the continent.
Our heartfelt thanks go to everyone who voted for us, our devoted partners, and, of course, the fantastic team at BDSwiss. Your trust in our services and dedication to excellence have made this accomplishment possible. As we celebrate this significant milestone, we reaffirm our commitment to keep pushing boundaries, enhancing our services, and maintaining our status as the leading IB/Affiliate program in Africa.
Once again, BDSwiss is thrilled to accept this award and we look forward to continuing our journey of excellence and innovation, to deliver the best services for our partners and clients alike.