BDSwiss Launches New Research Portal with 24/5 Market Coverage & Leading Financial Commentary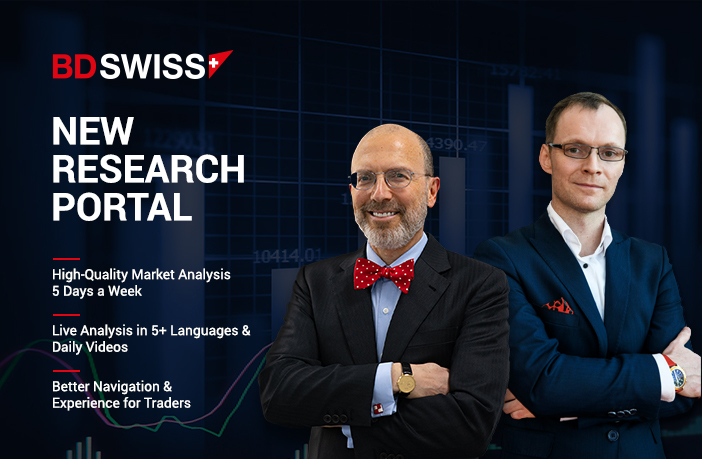 |
Delivering on its pledge to offer traders the best possible service, BDSwiss has recently launched a new Research Portal to house its acclaimed financial commentary. The new portal will provide a comprehensive 24/5 market news coverage through daily and weekly reviews as well as quarterly outlooks, video briefs and special reports. 
Dedicated throughout the years to offer its clients high-quality research and analysis, BDSwiss' thought-leadership tactics have established its research section as a one-stop source of reliable market commentary which is often quoted by the world's most prominent media including MarketWatch, Nasdaq and Reuters. This serves to underline the international acknowledgement of BDSwiss' Research and Analysis Team which is headed by world-renowned fundamentalist Marshall Gittler. 
Marshall's 30-year career spans high-profile positions in elite banks, including UBS, Merrill Lynch, Bank of America, BoC and Deutsche Bank. As a distinguished investment strategist and fundamental analyst, Marshall has been featured on global news agencies and appeared on CNN, BBC and Bloomberg News. 
Maintaining a forward-thinking approach and investing in continuous innovation, BDSwiss' newly-launched Research Portal provides a comprehensive and easy-to-navigate gateway that enables users to stay ahead of the markets. 
Giving traders and investors ample access to the latest financial commentary in both video and written form, BDSwiss Research portal includes everything from:
– Daily Market Commentary 
– Weekly Briefs and Outlooks 
– Quarterly Reports & Projections
– Expert Analysis & Technical Setups 
– Special Reports on Key Economic & Geopolitical Events
Catering to the needs of its loyal German client base, BDSwiss Research Portal will feature a Deutsche edition while the company also plans to add a number of other native languages. 
BDSwiss Head of Investment Research Marshall Gittler has commented on the launch of the dedicated Research Portal:
"The Global Financial Markets are intricate, volatile and fast-changing. For forex and CFD traders this translates into a vast pool of opportunities they might be able to capitalize on. Our new Research Portal was designed to give traders easier access to our existing wealth of resources. We hope to help our traders not only keep up with the markets but also give them reliable projections and empower them to identify and trade the right opportunities while also understanding the implied risks."