BDSwiss secures two ISO certifications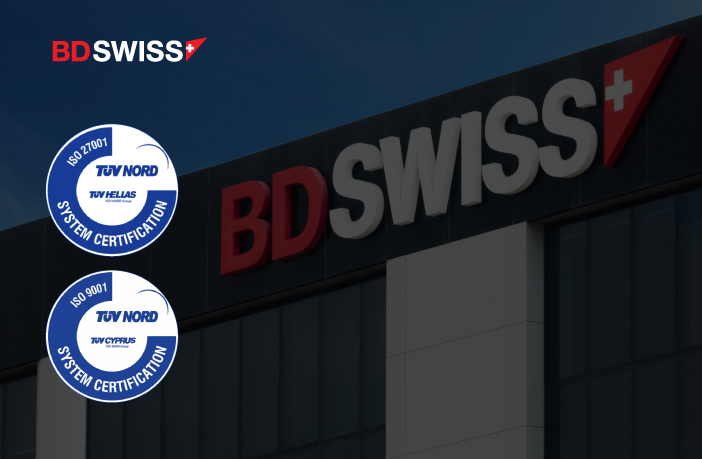 |
Financial services provider BDSwiss Holding Ltd. (BDSwiss) is pleased to announce the achievement of a significant operational milestone in receiving two International Organisation for Standardisation (ISO) certifications from external certification bodies, TÜV Cyprus and TÜV Hellas (TÜV Nord Group).
Following an exhaustive verification process over the course of 2020, BDSwiss implemented a series of initiatives to satisfy ISO requirements, leading to the granting of ISO/IEC 27001:2013 (ISO 27001) and ISO 9001:2015 (ISO 9001) certifications earlier this year.
Given the company's commitment to meeting client expectations and delivering a high-quality service for clients, the dovetailing functions of ISO 27001 and ISO 9001 served as the ideal opportunity to integrate cornerstone policies between September and December 2020.
BDSwiss is one of the first investment firms within the retail trading space as regulated by the Cyprus Securities and Exchange Commission (CySEC) to receive the complimentary certifications from the ISO.
ISO/IEC 9001:2015 Quality management systems
The ISO 9001 certification sets out the criteria for a quality management system (QMS) with over 1 million companies already certified globally.
The ISO's harmonised standard is based on seven distinct quality management principles (QMPs) including requirements for strong client focus, efficient productivity throughout the firm's hierarchy, a provable commitment to consistent processes and cast-iron audit trails to ensure full transparency between BDSwiss, its clients, regulatory bodies and law enforcement authorities.
QMPs are services or rules that incur a significant influence on BDSwiss' operations intending to create a more consistent and secure service offering. ISO's seven quality management principles are client focus, leadership, personal engagement, procedural consistency, improvement, evidence-based decision-making and relationship management.
Per the ISO's criteria, BDSwiss augmented its internal infrastructure to ensure core beliefs based on fundamental principles were reflected across the entire Group, and more specifically, its three most prominent companies: Cyprus-based BDSwiss Holding Limited, Mauritius-domiciled BDS Markets and Seychelles-domiciled BDS Ltd.
ISO/IEC 27001:2013 Information technology
The most recent version was adopted in 2013 and specifies the requirements BDSwiss must fulfil to establish, implement and maintain an information security management system, as well as stipulating requirements in assessing and remediating information security risks.
Obtaining an ISO 27001 certification means BDSwiss has expanded its capacity to effectively manage information security risks by implementing an information security management system. This validates BDSwiss' bolstered security measures and demonstrates the company's IT infrastructure is now suitably protected against the most sophisticated cybersecurity threats.
About BDSwiss Holding Ltd.
BDSwiss is a registered trademark of BDSwiss Holding Ltd, an investment firm authorised and regulated by the Cyprus Securities and Exchange Commission (CySEC) since 2013.
BDSwiss Holding Ltd. is a subsidiary of BDSwiss AG, a leading group of financial companies, offering Foreign Exchange and Contract for Difference (CFD) trading services in more than 187 countries and serving more than 1.5 million registered users.
BDSwiss provides trading services to a global audience through four user-friendly trading platforms: Metatrader 4, Metatrader 5, BDSwiss Web Trader and the native BDSwiss trading app.
About the International Organization for Standardization (ISO)
Founded in 1947, the International Organization for Standardization (ISO) is a standard-setting body composed of representatives from various national standards organisations, promoting global proprietary, industrial, and commercial standards.
Through its members, it brings together experts to share knowledge and develop voluntary, consensus-based, market-relevant international standards that support innovation and provide solutions to global challenges.
About TÜV Nord Group
TÜV CYPRUS is a subsidiary of TÜV HELLAS and a member of TÜV NORD (Technischer Uberwachungs Verein) GROUP. TÜV CYPRUS has been operating in Cyprus since 2006 and its inspectors are highly specialised with proven experience and training in matters such as: Industrial and Buildings Inspections, Quality Control, Quality Assurance, and Management Systems Certification.