BDSwiss Donates to "Elpida" Foundation for Children with Cancer & Leukaemia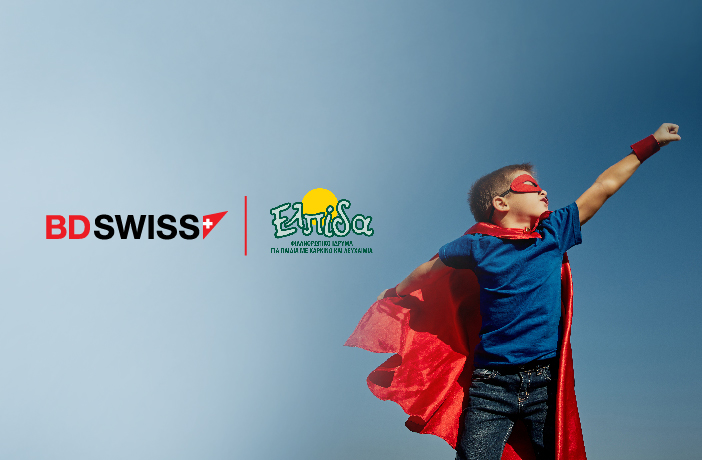 |
With the coronavirus pandemic taking a heavy toll on public health and the global economy at large, the importance of corporate social responsibility is magnified. BDSwiss Group has chosen to end the year with another charitable donation to the little real-life heroes, the ones that deserve to be the happiest during this Holiday Season – the children. Adhering to its long-standing CSR commitment, BDSwiss chose to once more support the work of the "Elpida" Foundation for Children with Cancer & Leukaemia with a charitable donation. 
BDSwiss' latest donation, which comes just a few days ahead of the holiday season, aims to support the will ass institution's efforts in providing financial and psychological assistance to children under cancer treatment and their families, as well as securing free accommodation to the families of hospitalised children. 
2020 has been a truly challenging year for the world at large, filled with crisis after crisis, from a crippling global pandemic to Beirut's deadly blasts, harrowing natural disasters, an ongoing refugee crisis and massive riots. Recognising the urgency of today's social and environmental challenges, and as part of its ongoing efforts to positively contribute to global communities, BDSwiss has implemented a number of CSR initiatives this year in support of major humanitarian NGOs including the ICRC, the Lebanese and Italian Red Cross, Solidary Albania, the European Network Against Racism (ENAR) and Australia's NSW, just to name a few. 
BDSwiss' latest donation to the "Elpida" Foundation for Children with Cancer & Leukaemia consolidates its CSR initiatives for 2020. Always committed to driving forward positive change, BDSwiss CSR initiatives for 2021 will remain aligned with global social and economic trends, allowing our Group to play a positive role in local and global communities. 
About the "Elpida" Foundation: The "Elpida" Foundation for Children with Cancer & Leukaemia was established in 1990. Since then, the foundation has been providing psychological and financial support to children cancer patients and their families and has been actively covering the training expenses for doctors and nurses, as well as purchasing any medical equipment needed for the Paediatric Oncology-Haematology Clinic, at Archbishop Makarios III Hospital, Nicosia, Cyprus.