BDSwiss Proudly Sponsors the Olympus Hike for Children with Heart Disease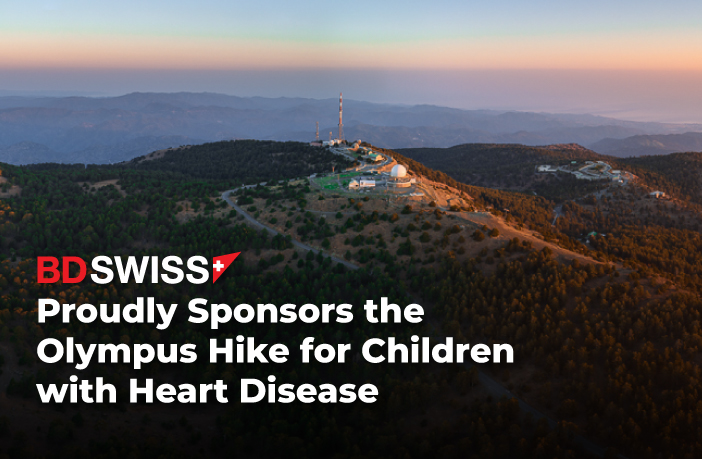 |
The Olympus Hike started as an idea among friends that later evolved into this 3-day charity hike of love and support for children and families affected by heart diseases. In collaboration with the Cyprus Association of Parents and Friends of Children with Heart Disease and under the leadership of a local law firm "K. A. Kourtellos & Co LLC", the Olympus Hike has been a rewarding, yet challenging journey of raising funds and awareness for children with heart diseases while exploring Cyprus's breathtaking natural beauty.
BDSwiss was the proud Bronze sponsor of the Olympus Hike that took place from October 20 until October 22. Our team of three adventure-seekers, Yianni, Phidias and Kyriacos put their hiking boots on and set off on this 50+ kilometre route journey from Limassol to Mount Olympus. Their unwavering passion, determination and enthusiasm to reach the highest point in Cyprus, made this philanthropic expedition an unforgettable experience that will remain forever engraved in their hearts; not only because of the natural beauties they had the chance to witness but mainly because of the emotional reward of being deeply invested and contributing in such a noble cause. 
 Achilleas Achilleos –  Chief Marketing Officer
"It was an honour for us as BDSwiss to be part of this charity venture. This 3-day hike definitely taught us one thing. Great things are accomplished when in unity, no matter the conditions. We are happy that we contributed in our own way to a better future for children with heart disease."
Undeniably, we couldn't be more proud of the collective spirit, solidarity and compassion that characterises our people who always strive to achieve their best and make a positive impact, be it on their teams or their community. Together we achieve more!
About the Association of Parents & Friends of Children with Heart Disease
The Association of Parents & Friends of Children with Heart Disease is a charitable, non-profit organisation founded in 1985 by a group of parents with children suffering from congenital heart disease. Since the day of its foundation, this group has grown and evolved into a united community of members who share their personal experiences, support each other and continuously try to improve the quality of life of people with heart diseases. Part of the association's mission is to find the financial resources and sponsorships to support this cause and also educate the public about congenital heart diseases through lectures, workshops and programs.