BDSwiss Supports the Cyprus Anti-Cancer Society in 47th Christodoula March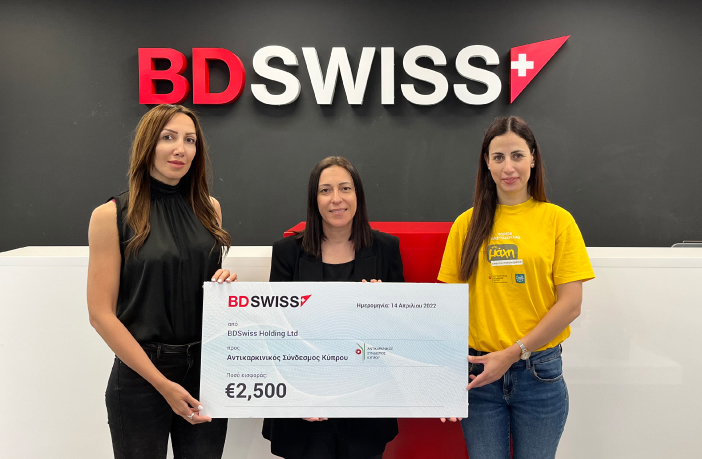 |
As part of its Corporate Social Responsibility efforts, BDSwiss is contributing a sizable amount to the Cyprus Anti-Cancer Society to support their 47th Christodoula March campaign. The money will go towards raising public awareness around cancer and to ensure the organisation's palliative care home can keep on providing its services to the public.
The first Christodoula March was organised in 1976 and has become a tradition that has been upheld ever since. Created in the name and memory of Christodoula, a woman from Ayios Memnonas, Famagusta who after becoming homeless during the Turkish invasion, walked all the way to Sotira as a refugee despite suffering from advanced stage cancer, the march is a symbol of strength, perseverance and courage to fight till the very end. 
This year's Chrstodoula March took place on Sunday 17th of April 2022. The event came to fruition after a two-year hiatus due to the Covid-19 pandemic that saw cancer patients being greatly affected, experiencing life-saving treatment cancellations. 
BDSwiss is deeply proud and honoured for contributing to the biggest cancer prevention and cancer awareness campaign in Cyprus. This year's CSR initiatives will continue to follow the company's commitment to bolstering global, social and economic causes.
A big thank you to Maria Michael, Head of the Limassol District Office for the Cyprus Anti-Cancer Society who dropped by our offices to receive the contribution. 
About the Cyprus Anti-Cancer Society:  The Cyprus Anti-Cancer Society (established in 1971) is a registered Charity Organisation that cares for people with cancer providing them with complete Palliative Care Services in line with international standards. Our aim is to support the patients' families and caregivers, but also inform the wider public about cancer prevention, diagnosis, treatment and relief.