Installing the BDSwiss Forex MT4 Trading Platform on PC
The BDSwiss Forex MetaTrader 4 trading platform is perfectly equipped for traders who wish to trade in the financial markets (forex, stocks, commodities and more) and it's available to all our PC users, ready to download directly to your computer in just a few simple steps.
Please follow below steps in order to install the BDSwiss Forex MT4 Trading Platform on your PC:
1. Click "Download Now" to start the download.


DOWNLOAD NOW
Your capital is at risk
Note: The size of the installation file is about is 310 MB. Please wait until the download has finished.
2. After the download has finished, the installing window should open automatically. If this doesn't happen, please navigate to your download folder and double-click on the file "BDSwiss Forex MT4".

3. In the next step, please read the license agreement and agree to it by clicking on the checkbox.

4. Click "Next" and wait until the installation process is finished.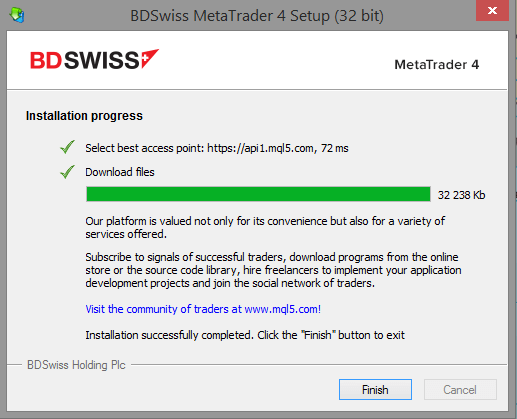 5. Now click on "Finish" in the installation window and wait for a moment until the BDSwiss Forex MT4 Trading Platform opens. Once it appears, click "Cancel" on the Server Finder window as shown below.

6. Congratulations you have finished the setup. Login to your MT4 trading account as usual.